FORMATO:
ISO
LANZAMIENTO: 9/DIC/2006
IDIOMAS:
Need for Speed Carbono, también conocido como Need for Speed Carbon, es la secuela de la popular serie de videojuegos NfS llamada a ser juego oficial de la película Fast and Furious: Tokyo Drift. El título de conducción de EA Games posiciona su historia después de los hechos ocurridos en Need for Speed: Most Wanted. El protagonista, Mark Cooper (interpretado por Jonathan Duran), regresa a su ciudad natal, Palmont City, donde todo parece haber cambiado: las bandas callejeras se disputan el control del asfalto, donde transcurren las peligrosas carreras y persecuciones policiales que la serie lleva por bandera.
Los espectaculares coches de lujo y velocidad vertiginosa de NFS: Carbono se presentan originalmente en PS3 y Wii, pero más tarde es porteada a Xbox 360, PC, e incluso para las portátiles PSP, Nintendo DS y GBA, bajo el sobrenombre "Own the City", con las mismas pretensiones de la versión de sobremesa pero con una historia alternativa ocurrida en la ciudad de Coastal City.
NEED FOR SPEED CARBONO - ÚLTIMA VERSIÓN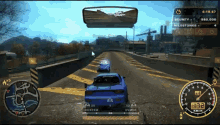 Windows XP Service Pack 2. Windows 2000 Professional Service Pack 4
Procesador Intel Pentium 4, 1.7GHz
1 Gb RAM
Espacio en Disco Duro: 10 Gb
Tarjeta de Vídeo NVIDIA Geforce4 Ti/ATI Radeon 8500 o superior.
Descargar el juego

Descomprimir carpeta RAR

Montar el Archivo ISO con «Daemon tools o similar»

Ejecutar el SETUP.EXE e instalar

Cuando nos pida serial vamos a la carpeta que se llama NFSC_Crack

Abrir archivo de texto Serial y copiar y pegar el código sección por sección

Luego de esto le damos siguiente y registrar luego

Al terminar de instalar darle en salir

Una vez finalizada la instalación

entrar a la carpeta llamada «NFSC_Crack» copiar los archivos que contiene y pegarlos en la carpeta de su juego instalado

Ejecutar el juego como Administrador

Divertirse 😉👌